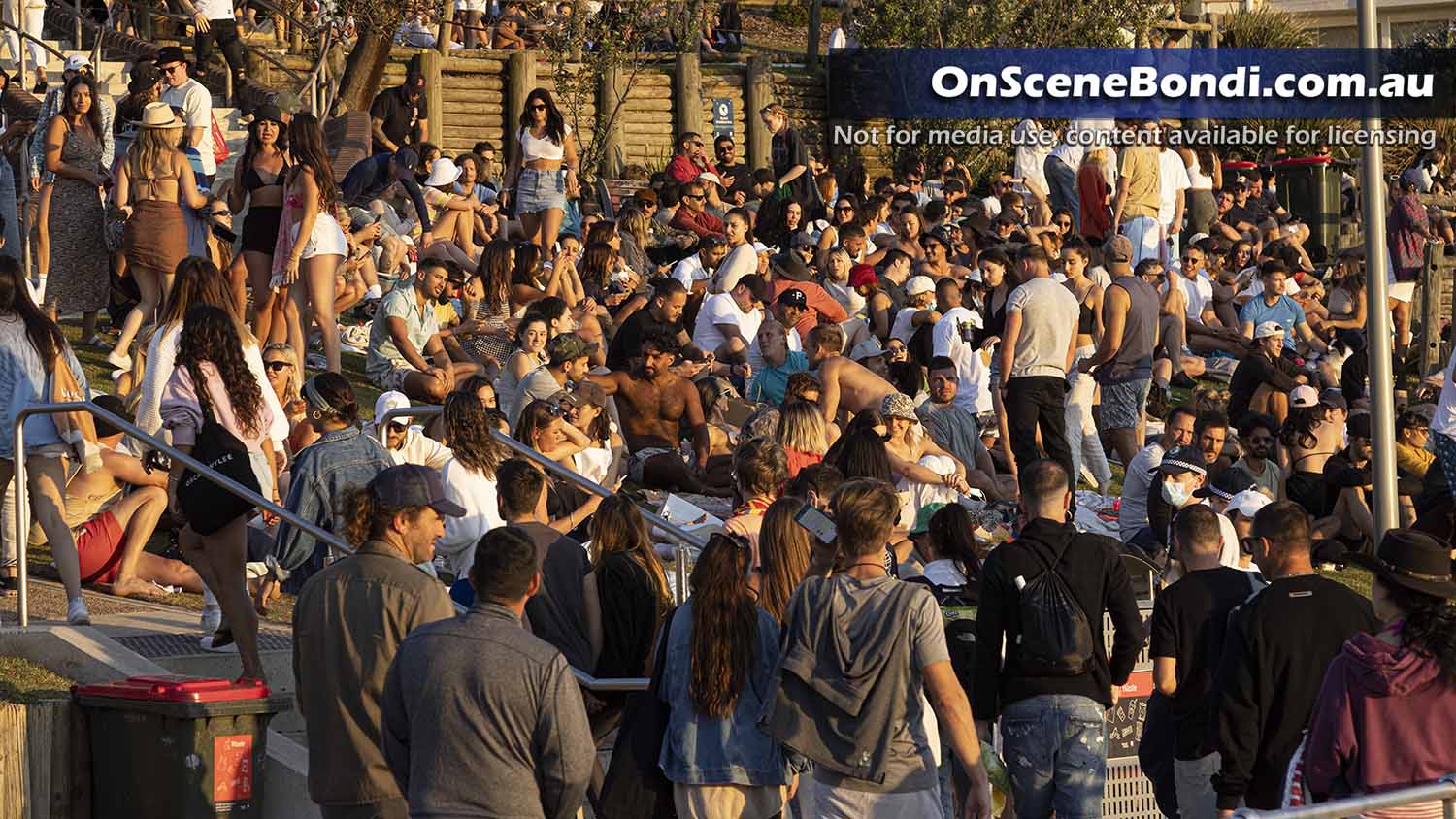 "Business as usual" as crowds enjoy a classic Bondi Sunset
Some may believe this is just another ordinary day at Bondi Beach with crowds enjoying the sunset, however greater Sydney is still in the midst of a pandemic as Covid works its way across our city with over a thousand cases per day.
Police from Eastern Suburbs local area command and council rangers patrolled Biddigal Reserve on the northern end of Bondi Beach as approximately two hundred people found their place and did what usually happens on a sunny Sunday evening.
The majority of those who were at the reserve either had no mask on, or a mask below their chin, and whilst wearing a mask is not needed when eating or drinking, there appeared to be little to no effort to wear one until police showed up.
All police could do was show their presence with the support of council rangers. Some scurried away upon seeing the police arrive and others quickly reached for their mask to avoid being fined.
Whilst it remains unclear if the groups were household members, the current mask wearing regulations for greater Sydney remain clear.
In greater Sydney you must wear a mask when outdoors and you can only remove your mask when you are:
Eating or drinking
Communicating with another person who is deaf or hard of hearing
At work and the nature of the work makes the wearing of a fitted face covering a risk to the person's, or another persons' health and safety, or where clear enunciation or visibility of your mouth is essential
Asked to remove their mask for identity purposes
In an emergency situation
Doing exercise
In one of the 12 LGAs of concern a mask can be removed if you are doing strenuous exercise
In other areas of the state, a mask can be removed if doing other types of physical exercise
At a correctional centre, place of custody, or hospital
A resident at an aged care were facility, a guest in a hotel/motel room and in your room
In the process of getting married
Working alone in an office (until another person enters)
In a vehicle alone or with another person from your household.
Police regularly patrol Bondi as part of their daily activities.